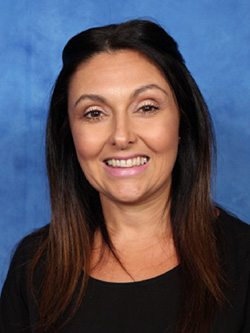 Fiona Busuttil is the principal psychologist at Donvale Psychology. She provides counselling and psychological services to adults, adolescents and their families. While her initial experience focused on providing individual based therapy, her therapeutic approach has evolved to become one of providing more family-based intervention. She works effectively with young people and adults through a commitment to engage with clients through respect, support, humour and ongoing collaboration.
She has a friendly and down-to-earth approach and works hard to develop a positive and trusting working relationship with her clients. She works to support clients on a wide range of presenting issues, including anxiety, depression, stress management, grief and loss, career issues, life adjustment, interpersonal difficulties and self-esteem. She believes in a client-centered approach and is flexible and open to tailoring treatments programs to meet the individual needs and preferences of her clients. In her work she draws upon a variety of interventions including Cognitive Behavioural Therapy, ACT, mindfulness, interpersonal therapy and solution-focused therapy.
She is a caring and enthusiastic psychologist who has a specialised interest in adolescent mental health. She has spent the past 16 years working within the education system and has worked with in private practice since 2015, as a psychologist at Tunstall Square Medical Centre.
Her focus is helping clients recognise and build on their strengths to make the important links between their thoughts, feelings and behaviours. She has a warm and empathic approach and is motivated by her ability to support clients develop the self-awareness to make meaningful changes in their lives.
She feels it is a great privilege to work with clients who have the courage and commitment to come to therapy and works with them towards developing a more fulfilling life.
She works with:
Adolescents
Adults
Families
Areas of Interest
Counselling and psychological help is available in the following areas of concern:
Anxiety & Depression
Family / peer relationships
Grief & Loss
Personal development
Anger management
School Issues
Stress management
Workplace stress
Parent counselling
Relationship difficulties
Difficulty managing emotions
Clients referred to her practice can access rebates through Medicare's Mental Health Care Scheme and their Private Health Insurer.
Please contact Fiona on 0427 229 744 or email This email address is being protected from spambots. You need JavaScript enabled to view it..
Fiona Busuttil
Psychologist
B.A (psych), Grad Dip Psych., MAPS, MAPPI
Tunstall Square Medical Centre
1092 Doncaster Road, Doncaster East 3109
Appointments: 0427 229 744 or email This email address is being protected from spambots. You need JavaScript enabled to view it..